Who We Are
Since 1993, Grassroots Policy Project (GPP) staff members and consultants have worked side-by-side with leaders, organizers and staff of social movement organizations to develop grassroots power for social transformation. Our work has taken many forms over the years: trainings on power, worldview and strategy, policy and platform development, strategic planning that is rooted in power analysis, and more. Beyond training, we work with groups to put these concepts into practice. We get inside the practical reality of an organization and develop, in partnership with staff and leaders, an organic process for organizational change. [Click here for a more complete listing of our writings on these concepts].
What We Do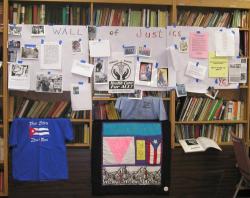 It doesn't take long for organizers and leaders to appreciate the tools and concepts we've developed about power, worldview, and strategy. However, it is harder to change organizational priorities, practices, and culture. We work closely with organizations over time, helping them gradually shift their practices.
Cultivating strategic practice has become our main focus lately, with emphasis on the ways in which long-term strategy is brought into an organization's day-to-day work; or how acting through a strategy impacts what an organization does.
We also have a growing library of writings on strategy, worldview and power. Feel free to use our materials with attribution, and let us know how you are using them. Also. please feel free to suggest other writings to us.
Who We Work With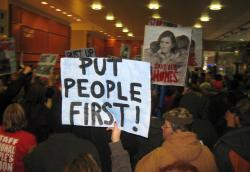 Over the years, we have collaborated with member-based organizations, coalitions and networks organizing neighborhoods, workers and unions, congregations and other faith-based communities, environmental justice organizations, immigrant rights and racial justice groups, as well as intermediaries that work closely with organizing groups. Examples include National People's Action, a national network of state and local community organizations, TakeAction MN and ISAIAH. We also work with some labor-based groups and with a number of research and training intermediaries.
Testimonials
Here are some examples of what people are saying about us:
"GPP's collaborative process has allowed us to think strategically about our long-term work while grounding that work in day-to-day reality." Dan McGrath, Executive Director, TakeAction Minnesota
"GPP has the rare ability to translate ideas into practical trainings for members as well as a depth of knowledge about organizing and organizations." Doran Schrantz, Executive Director, ISAIAH
Contact Us
We have offices in Berkeley, CA and Minneapolis, MN. Our mailing address is: 1515 Oxford Street, 1D, Berkeley, CA 94709. Call us at 510-898-1812 or email our staff: Richard Healey, Sandra Hinson, Dave Mann and Charlene Sinclair.
More information about our staff is on the GPP Staff page.
GPP wishes to acknowledge Paul Saba, who keeps our "Daily News & Analysis" up-to-date. Thanks, Paul!